The Laboratory of Applied Science is working in collaboration with two international companies, Larkfleet ltd and ITEnergy, to develop a new generation of solar collectors.      
Our protype is now undergoing extensive testing in Mexico.  
This novel technology, that uses plastic Fresnel-lenses to concentrate the sun energy,  is being developed for the sustainable generation of industrial steam. Applications are many, and include textile and chemical manufacturing, cooling and heating. 
This project, supported by InnovateUK, aims to improve, to the point of commercialisation this type of solar collectors. Our d
esign is ideal for medium temperature applications, such as cloth, chemical and drug manufacturing, cooking, water treatment, etc. (any application requiring temperatures up to 25
0 C). The system is being developed to fit the demand for industrial medium temperature heat.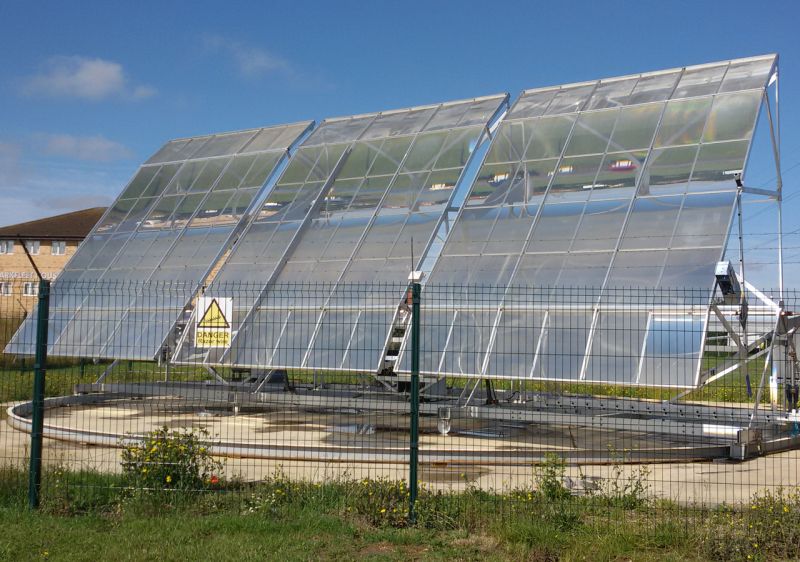 Heat industrial processeses account for approximately 30% of the total energy consumption of  the world. Our external partners, the National University of Mexico (UNAM) and ITEnergy (Mexico), are helping us to implement the system in Mexico, where solar radiation is one of the highest in the world. Mexico is also one of the desired markets of this technology as there is a need to supply low carbon heat to the industrial sector. The prototype has the potential of benefiting society by bringing cheap, renewable and clean heat to applications that normally relay on other non-r
enewable sources such as nuclear, coil or gas burning. 
This project is kindly supported by the InnovateUK, the Newton Fund and CONACyT (Mexico).