Dr Rafael Castrejón-Pita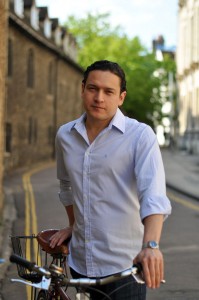 PhD
Lecturer in Applied Sciences
Research
Fluid Dynamics, Liquid breakup, Drop formation and Impact, Liquid Jets, Instrumentation
Biography / Research Interests
Dr. J.R. Castrejón-Pita is a Lecturer in Applied Science in Queen Mary, University of London where he leads the Laboratory of Applied Sciences. He was awarded his MSc (Physics) in Fluid Mechanics from the National University of Mexico in 2003, and his PhD (Physics) in Quantum Optics from the Imperial College in 2007. He was a Senior Research Associate and an Isaac Newton Trust Fellow in the University of Cambridge from 2006 to 2015. He is a former Fellow of Wolfson College Cambridge.
His interests lie in the field of fluid mechanics, particularly in the understanding of fundamental processes during liquid breakup, coalescence and splashing. His projects have been funded both by research councils (EPSRC-UK) and industry. His industrial partners include Airbus, Xaar plc and INCA. Rafael has published 41 peer-reviewed articles in journals such as Physical Review Letters, PNAS, Biomicrofluids, Applied Physics Letters and the Review of Scientific Instruments. He is a very active referee in journals such as the Journal of Fluid Mechanics, Biomicrofluidics, Physics of Fluids and Physical Review Letters.
Rafael lectures the modules of Mathematics and Computing, Celestial Mechanics and Fluid Mechanics for undergraduate students in the University of London.
Publications
2021
2020
2019
2018
2016
2015
2014
2013
2012
2011
2010
2009
2008
2007
2006
2005
2003
2002